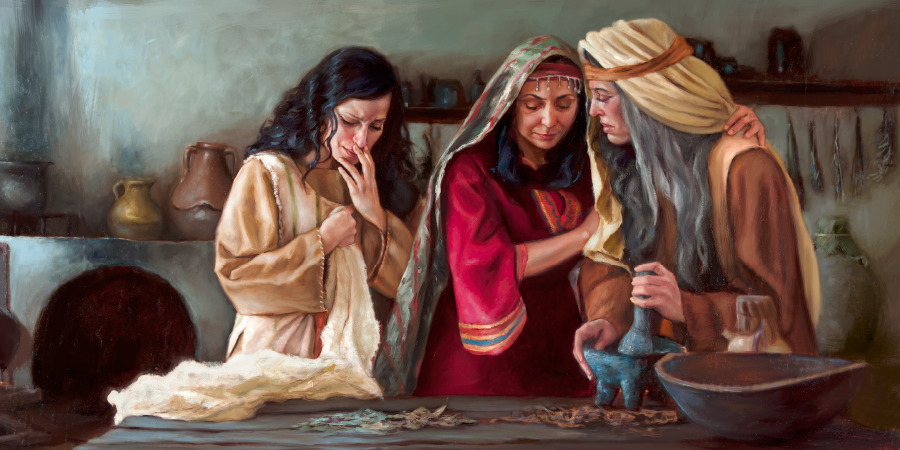 by
 Damien F. Mackey
 "Greet Andronicus and Junia, my fellow Jews who have been in prison with me.
They are outstanding among the apostles, and they were in Christ before I was".
Romans 16:7
Some have suggested that the otherwise unknown "Junia" referred to in this verse could only have been a female, and may have been the "Joanna" of Luke's Gospel.
For example, Marg has written: https://margmowczko.com/junia-jewish-woman-imprisoned/
Junia: The Jewish Woman who was Imprisoned with Paul
….
A Female Missionary
Junia, mentioned by the apostle Paul in his letter to the Romans, is a woman whose identity and whose ministry has been much discussed in the past few decades. It was first debated whether she was a woman or a man. But the overwhelming evidence from inscriptions and other ancient sources indicates that "Junia" was a common name for a woman, whereas the masculine equivalent, "Junias", is non-existent. Practically all early Christian writers took Junia to be a woman, and the consensus among present scholars is the same: Junia was a woman. So this debate has been resolved.
The debate then shifted as to whether Junia was an apostle or not. The word "apostle" is translated from the Greek word apostolos and refers to a person sent on a mission.
….
The debate about whether Junia was "outstanding among the apostles" or, as some argue, that she was "well-known to the apostles" and not an apostle herself, has not been resolved…. But either way, Junia was a prominent figure in the apostolic church. …. Junia and her partner Andronicus were not part of the Twelve, but they were, most likely, well-known and respected Christian missionaries.
Mackey's comment: According to an interesting hypothesis, Andronicus could have been the apostle Andrew, under the Greek form of his name. Thus we read at: https://www.theologyofwork.org/key-topics/women-workers-in-the-new-testament/the-jewish-palace-insider-and-benefactor-junia-romans-166
The Jewish palace insider and benefactor Junia (Romans 16:6)
Biblical scholars have puzzled over the years about Paul's reference in Romans 16:6: "Greet Andronicus and Junia, my relatives who were in prison with me; they are prominent among the apostles, and they were in Christ before I was." Who were these folks? Paul was clear that they were related to him, that they had shared prison time with him, they were prominent apostles, and they had become believers before he had. Who could fill that bill?
That points to someone who was Jewish, had known Jesus in his earthly ministry (the requirement for the title apostle), and had signed on as a Jesus-follower before Paul himself. Now they were in Rome.
In his book Gospel Women, noted biblical scholar Richard Bauckham untangles the knots in this mystery for us, starting with one of the women healed by Jesus, mentioned in Luke 8:3. She was Joanna, the wife of Chuza, the business manager for king Herod Antipas. It turns out that the name Joanna is the Hebrew equivalent of the Roman name Junia. Could Joanna in the gospels be the same person as the apostle Junia? Look at some of the possible clues leading to that conclusion.
The name Chuza is not a Jewish name, and he is thought to have been Nabatean (King Herod Antipas had other connections to the Nabatean royal family). But as the king's finance minister living in the new Roman-style palace in the royal city of Tiberias, he needed a Jewish wife connected to a wealthy Jewish family. Enter young Joanna (probably just entering puberty when she was married to the much older, mature man, Chuza). While king Herod Antipas had some Jewish blood, his kingship depended on Rome, so palace life in Tiberias followed Roman practices. Joanna would likely have been given a Roman name (Junia) and would have been formed in Roman ways of acting and thinking.
We first meet Joanna in the Bible, however, not as part of the royal household, but as a woman in need of healing. Luke tells us that after Jesus healed her, she became part of his traveling band of women caring for the physical needs of the Savior. In short, she became one of his benefactors, providing funds for the support of his group.
What the Bible does not tell us is whether or not Chuza had died and Joanna was widowed, but scholars surmise this likely was the case (given the probable disparity in their ages). Nor does the Bible tell us that in traveling with Jesus' band, she might eventually have remarried, becoming the wife of Andrew, one of Jesus's disciples. If, however, this was the case, it would answer to all of the clues given in Paul's greeting to this couple in Romans 16:6. We know that Peter first carried the Gospel to Rome, and to bring along his brother and fellow disciple, Andrew, is logical. So as Paul's letter to the Romans was read to the assembled Christians, he addressed this apostolic pair by their Roman names – Andronicus and Junia.
Paul doesn't tell us that back in Palestine they had been Andrew and Joanna, but all of his clues fit that possibility.
Mackey's comment: Back to Marg, she, too, will arrive at the conclusion that Junia was Joanna
A Jewess and Jesus' Follower
What hasn't been discussed as much is Paul's description of Andronicus and Junia as suggeneis.[3] This Greek word can mean "relative/relation" or "compatriot" and it is translated with either meaning in various English translations of Roman 16:7. But which meaning is correct?
The couple were among the first people to become Jesus followers, and all the first Christians were Jewish. So it is safe to assume that Andronicus and Junia were Jews, as Paul was. If they were family relations of Paul (and we don't know if they were) this would also make them Jewish. All in all, "fellow Jews", or "compatriots", is the safest rendering of suggeneis in Romans 16:7.
Paul states that Andronicus and Junia were "in Christ" before him, and Paul was converted sometime during the years 33-36 AD. I wonder if the couple had travelled to Jerusalem for the feast of Pentecost that is the setting of Acts 2. Did they hear Peter preach at that time? Did they accept Jesus as Messiah, and then return to Rome?[4] Or did Junia become a follower of Jesus even earlier?
Are Junia and Joanna the same person?
Some scholars, notably Richard Bauckham and Ben Witherington III, argue that Junia may be one and the same as Joanna, a female disciple of Jesus who is mentioned in Luke 8:3 and Luke 24:10.[5] Luke tells us that Joanna was the wife of Chuza, the steward of Herod Antipas.
As part of Herod's court, Joanna would have known Latin and been familiar with Roman customs, making her a suitable missionary, or founding apostle, of the church at Rome. And she may have changed her Hebrew/Aramaic name to the Latin "Junia" to suit her new surroundings in Rome.
Another part of this Joanna/Junia scenario is the understanding that her husband Chuza died at some point, and that Andronicus became her new husband and ministry partner.
….